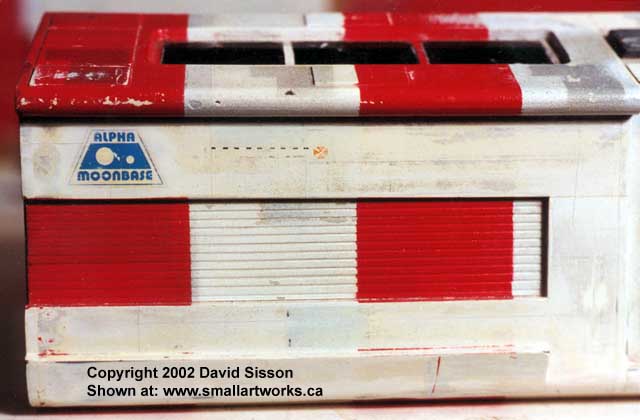 Side of passenger pod as paint is slowly stripped away.
The top of the pod was a different story because it looked to be in a rough condition, though a lot of this damage turned out to just be lumps missing out of the multiple layers of paint and as soon as I rubbed it all down with wet & dry paper most of it just disappeared. One piece of damage that did need fixing was the edging above one door, which had snapped off during filming, and I cast this from a small plaster mould that I took from the adjacent section.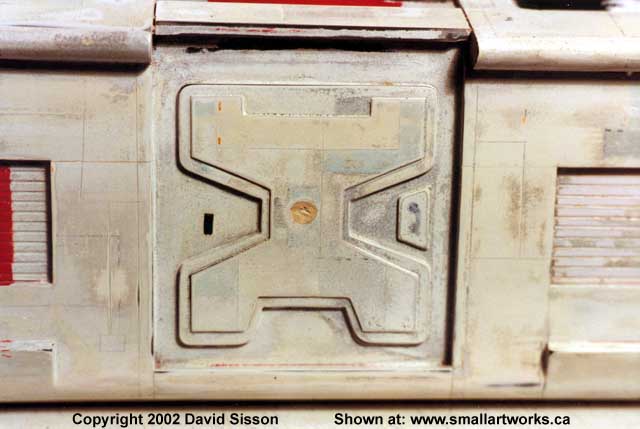 Cleaning away the upper layers of plain white and grey paint revealed some of the more interesting features. One side was mostly covered in light blue panels, like the nosecone, while the other side was covered in heavier shades of grey to cover the fact that it had once featured red stripes. I've always assumed that the red striped pod was a different model but I suppose it was always easier for them to just paint one side and keep swapping it around.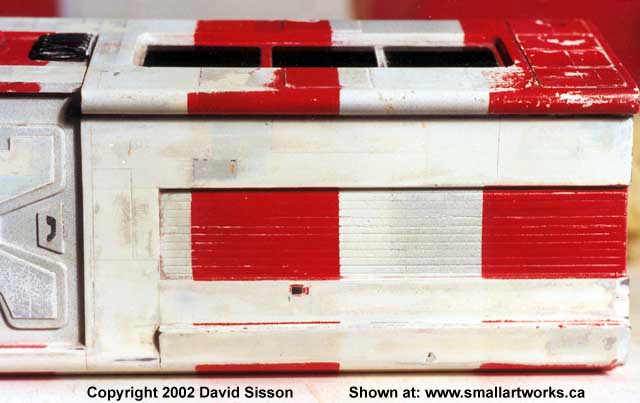 Paint buildup is evident on the detail of the model as more paint is stripped away...
It's probably also true that the light blue didn't show up that well on film and they eventually over painted it with grey layers. Other details consisted of scribed and drawn panel lines, letraset markings and fine black and orange dash's that are done with either paint or marker pens. The Moonbase Alpha decals were recent copies but there were two original sets under the various paint layers and they either fell apart or were already damaged but I did manage to uncover one intact.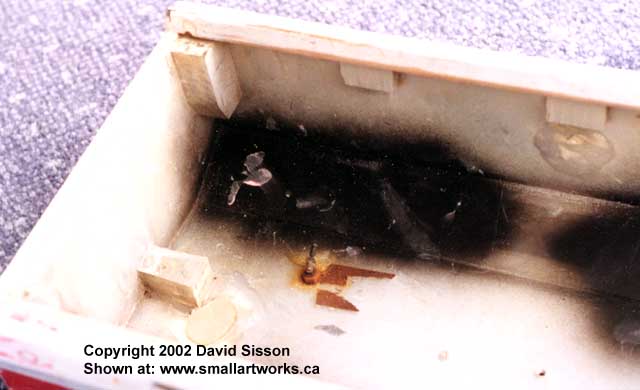 The four sets of windows along the top are just clear perspex painted black on the inside and unfortunately one is badly scratched. When I scratchbuilt a pod I cut the recessed areas out and glued window panels on the inside that could be replaced if damaged, on this model the windows are just the exposed areas of a larger perspex sheet that forms the shell of the pod so they can't be replaced.
The middle recess containing three kit parts should be on the same level as the windows but a layer of plasticard has been inserted to make the area shallower.
The roof has a number of holes drilled in it (one of which is still fitted with an electrical contact) and a large hole at one end, that has been filled in, which looks to be caused by some sort of severe damage- possibly melting. Oddly a hole has also been drilled through the centre of one of the main side doors and then filled in with white modelling clay.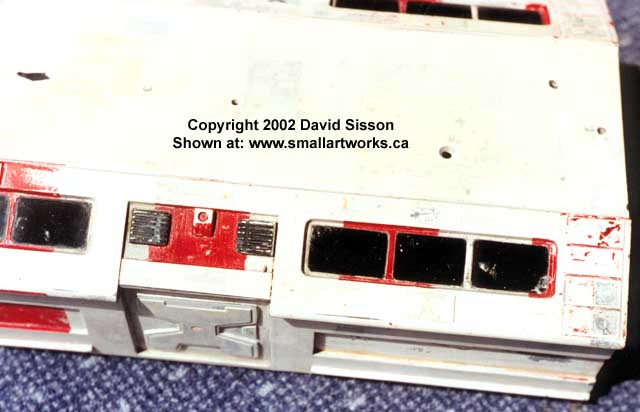 Rubbing away the outer layers of paint took a couple of weeks and some parts were removed to make the process easier. Because of the build up of paint the 24 small rectangular plasticard panels around the windows were taken off and cleaned separately, this wasn't too difficult as some of them were already loose and they had only been attached with some rubbery contact adhesive.
One of the large corrugated plasticard panels also came off revealing a lot of orange paint, which had seeped around the edges. That would seem to indicate that this pod might have been painted to represent Commissioner Simmons Eagle in the first episode 'Breakaway' although it didn't appear in the final edit.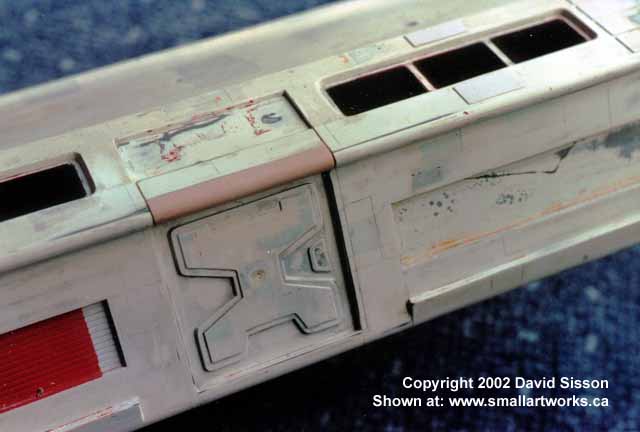 The corrugated plastic sheets are the worst things on the model as over the years they've begun to warp and loose their detail under the multiple layers of paint. I almost replaced them but after a new coat of paint and some careful weathering they don't look too bad.
Before painting photographs were again taken from all angles so that the panel detail could be recreated and all the old scribed panel lines, which were filled with paint, were carefully redone. Certain details that were in reasonable condition were masked off so they would appear in the final paint scheme, these included one original Alpha decal, orange markings and one complete door panel.